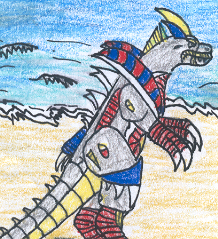 Metarus

Made By: Me! Tom!
Hieght: 120 meters
Weight: 40,000 metric tons
Powers: Cadmium Missles, Mach 4 flight, Energy Beam, G-Graspers, Energy deflectors, Hyper Shield, Escape Ship, Super Energy Blaster
Origin: Made by US goverment to stop Kaiju in America.

Story: Metarus battled Chagidon, a kaiju that isn't well known to the world, in 1998, Metarus won and Chagidon went wimpering back into the sea to slumber for a few thousand years. Then Metarus was used to battle Godzilla on Hawaii in 2002. Metarus lost and was torn into pieces. I guess its time to put humpty dumpty back together again.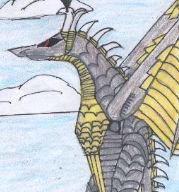 MechaRodan

Made by: Me
Hieght: 95 meters
Weight: 33,000 metric tons
Powers: Flight at Mach 5, Super Energy Beam, In-Flight Kaiju-Graspers, Ultra electrical current
Origin: Made by OCIKI to defend the world from flying kaiju.

Story: MechaRodan was finished in a hurry, so not all weapons were added. MechaRodan was immediately sent into battle with Rodan and lost. The robot was not completely destroyed so it was later forged and used against Ultrillas stage 1. This proved a very bad mistake and MR was taken out very quickly.